Description
The Bio 80 7 kW above connection
With the Bio 80 7 kW with top connection, the modern slim design with a very high level of finish immediately catches the eye. This pellet stove has a door that covers the entire front. This makes it very easy to access all parts in the stove. This makes cleaning and maintenance work very easy. The Bio 80 7 kW pellet stove from Fair has a cast iron burner pot, which benefits the solidity of the pellet stove. Unlike many other brands of stoves that have a stainless steel burner pot and chamber. The simple but very stylish and practical design with top connection in combination with its competitive price makes the Fair Bio 80 a popular pellet stove.
More heat at a lower cost
The Bio 80 7 kW with top connection from Fair has an efficiency of at least 93%, which is very high compared to other combustion heaters. In addition, this Bio 80 pellet stove has a very low particulate emissions of 12.9 mg/m³. These are important core values ​​for Fair with regard to the environment and energy consumption of a pellet stove. Fair recommends for pellet stove Bio 80 7 kW type EnplusA1 pellet granules for optimal combustion with the fewest residues. The connection at the rear for the flue is ideal.
Choose the right power
It is very important to choose the right amount of kW for the volume (m³) of the (living) space. The space to be heated must match this stove in order to obtain the perfect heat, not too cold but also not too warm. The Bio 80 7 kW pellet stove with top connection is suitable for a room with a maximum volume of 150-240m ³. If a wattage is too large (kW) for the required space, Fair's advice is to draw in the oxygen (air) from outside by means of an external air supply.
Choose for better health
If you suffer from asthma or other respiratory diseases, the environmentally friendly Bio 80 AH is a wise choice. Fair has equipped this Bio 80H with top connection environmentally friendly stove with an ionizer system. An ionizer ensures that the dust particles in the air disappear, making the air cleaner. In addition to purifying dust particles, an ionizer also limits the spread of bacteria, viruses and allergies such as pollen. This pellet stove is currently one of the cleanest and most environmentally friendly pellet stoves available. The Bio 80AH is good for the environment as well as for health and is very suitable to be placed in a living space, office, chalet, mobile home, apartment, conservatory, veranda or showroom. The surface may vary from 70 to 100m².
HealthSystem
With HealthSystem you can improve the air quality in the room where the pellet stove is located by purifying and heating. So even in summer you have the advantages of a Bio 80 pellet stove with a top connection not for heating but to improve the air in which we live. To use this you don't need a flue, just a 220V socket and you can also place the stove in a different place. The built-in ionizer neutralizes odors, dust, pollen and smoke. In addition, most bacteria and other pathogens present in the air are also killed by the negatively charged ions. Especially now with the Covid-19 pandemic, an ionizer has advantages.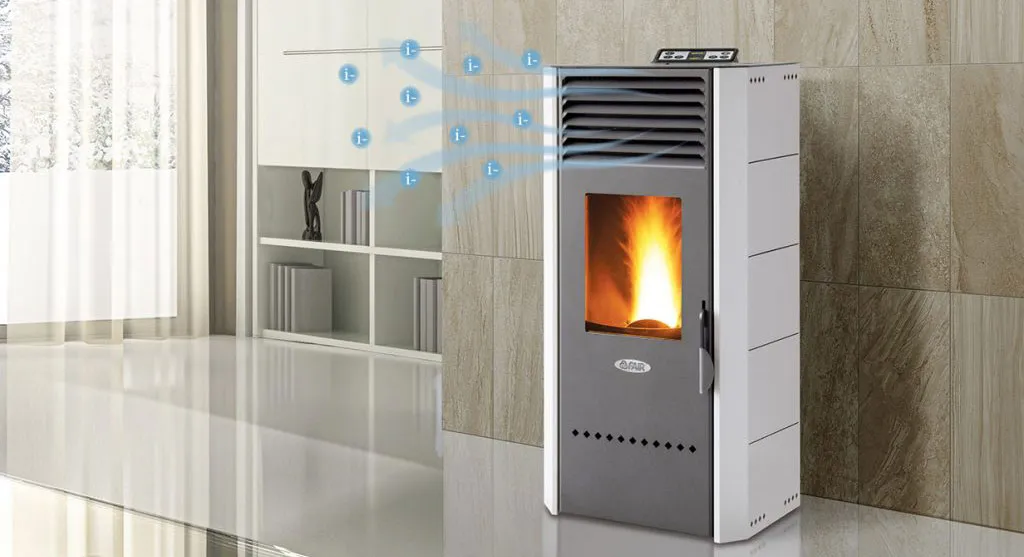 Advantages:
Top connection

Weekly thermostat with adjustable 4x day on/off program

Intelligent heating system (temperature and fan separately adjustable)

Automatic temperature sensor

5mm thick combustion chamber

Standby and modular function

Self-cleaning cast iron brazier

Noiseless 5 speed fan (40dBA)

Dutch multifunctional display

Touch control for temperature and pellet feed

Option: Remote & Wifi
Specifications:
Maximum power: 7.7Kw

Rated power: 3 – 7.1Kw

Return: 93%

Consumption: 0.6 – 1.5 kg/h

Content required space: max 120 – 240m³

Stock tank: 15 kg

Burn time: 10 – 26 hours

Electricity Consumption: 50 – 105w

Dimensions (lxwxh): 425 x 435 x 925mm

Pellet diameter: ENplusA1 Ø 6 mm

Flue outlet: Ø 80 mm

External air supply (oxygen): Ø 48 mm

Weight: 70 kg

Warranty: 2 years

Certification: KIWA, CE, 15aB-VG, EN-14785
Delivery pellet stove
You can get the Bio 80 7 kW pellet stove with a top connection at home in different ways. For example, you can choose to pick it up from us after ordering. But it is also possible to have these delivered by Pelletkachlkiezen. We arrange this with transport company Thijs logistics, they collect the stove from us and deliver it to your home the next day. Inquire about the costs that are charged for this. It is also possible that Pellet Stove Selects takes care of the complete installation at your home. We are happy to make a suitable offer for this.